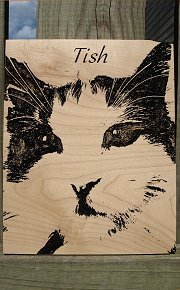 Cat Photo Trace
I was asked by a friend if it was possible to take a photograph and turn it into a carving. Now, there are software programs designed just for this purpose, but not having such software just lying around, I wasn't really sure if it could be done with what I had available. But it was a special request for a special reason and I thought "sure, I'll give it a shot", not sure what I might be getting myself into. But, I'm always willing to learn something new. Here is the outcome. I was very pleased, as were the recipients. It was helpful the cat was black and white, I'm not really certain how I might have handled it otherwise.
Review: Amazing!!!! Best gift ever for my brother-in-law!!! Thank you!! Woodchuck's Woodcrafts...Amazing picture! Looks just like Tish. ~ D Fisher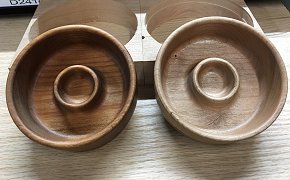 Ring & Watch Bowl
This was a Christmas gift for my daughter who had recently gotten engaged. Being in the business of 2D signs, this was my first foray into a complete 3D project. But always wanting to learn new things, and with the help and advice of some woodworking experts around the world, I turned out 3 of these. Of course she thought the first one was "perfect", but being the person I am, it wasn't totally perfect to me, so along came a second and third. She now has two of them, each with a different type of finish, I have the third as a nice memory of a lot learned as well as to show others a different side of my capabilities.
Awaiting review.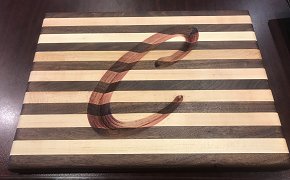 Cutting Board Initial
First, I didn't and don't make cutting boards. I was asked by another wood worker if I could carve an initial into a cutting board he had made. The recipient had requested it. I asked what style font and size, and we worked it all out. The cutting board was approx. 12x18 and the initial was appox. 9" tall. The recipient was advised to use the non-carved side for cutting and the carved side for display purposes.
Initial review - We sent a photo after it was carved and she "loved it!!!".